If you are reading this, we would like to first thank you for taking time to visit our Shop. Am Somu Padmanabhan and Woodooz is my brainchild. Not willing to take no for an answer and with much support from my wife Preethi, I decided to build a Center Table for our home with absolutely no knowledge or experience. Inspired and motivated by the outcome of our work, whenever we needed something for the home, we first attempted making it ourselves. That is how we started making clocks and Lampshades and other tiny items for the home.
The center table the we first built



























Click here to read about know about the 6 words that planted the DIY culture in us
What started as a need to document my work turned into a full fledged blog and that is how Woodooz.com was born. We started the blog initially to showcase our creative outcome and then in due course started adding how tos and FAQs that we thought might be purposeful for our readers. We completely enjoyed the appreciation and love showered upon us, that we also opened up the blog to showcase the works of friends and family.
Lampshades have always been close to our heart. It was something that happened by chance when I was trying to make good use of an old kurta of mine. While I used basic materials that were available at home, I was quite impressed with the outcome that it naturally led to making a floor lamp for our own living room. Over the years, I have DIYed lampshades for friends and family and soon it became an obsession. It was also the favorite product of mine among the crafting community in Chennai that I ended up demonstrating the making of one of my shades to a small group. And they loved it.
The lampshade that we DIYed live


























Click here to read about my DIY Lampshade for the Craft loving Chennai folks
To convert them into a product has been in our mind for a long time, so much so, when we wanted to open this store, we knew what products it would go live with. I spent over 6 months understanding what materials go into making of a lampshade. It was essential for me to transition from DIY lampshades to a more commercially viable and acceptable product.
Wood is my forte and this site is now live with Wood based shades. I have started small. And I have plans to introduce variants soon. I am a self taught Woodworker and my love for working with wood led me to quitting my 17 year old career to pursue my passion for carpentry. The result is this store.
If you need more information about Woodooz or about our work, please drop me an Email at somu@woodooz.com.
You can also visit us on our
blog Woodooz.com
if you are into DIY and would like to try some of the small projects that we teach you to make there.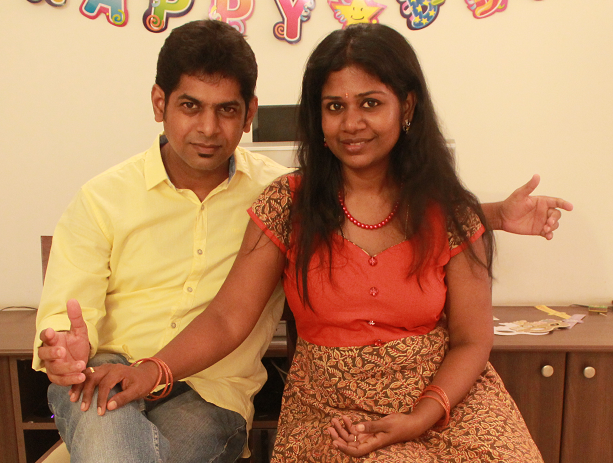 - Somu Padmanabhan with Preethi Vaidyanathan